A peek into "Creative World 2012"
I may be biased but truth has to be said :) we are working with the most amazing material in the world.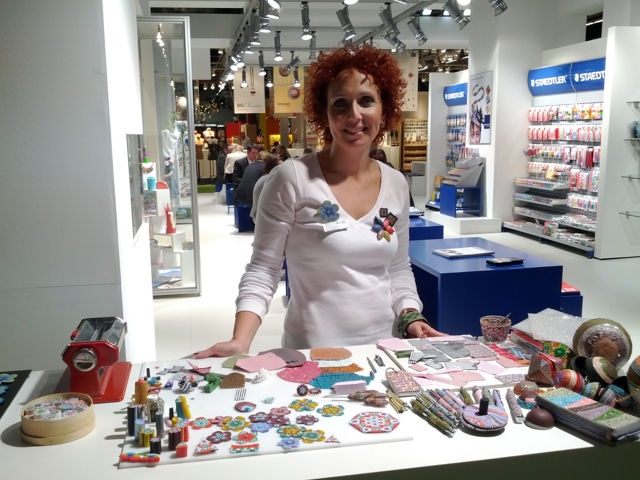 For 4 days I was a part of a creative experience to introduce fimo polymer clay to countless people. People who never heard of it before, never touched it or saw work made of it, people who were smiling and wowing roses and flowers, admiring the possibilities and thinking about learning more and more about it, and yes, it was wonderful.
I had the honor to be Staedtler fimo guest artist in "Creative World" 2012. This is the biggest trade fair for the creative sector held in Frankfurt, Germany. It is the highlight for the hobby, crafts and artists' segments.
It was so interesting to see how different audiences responded to the display - fellow artists were quickly discussing techniques and ideas with me, whilst others, un-familiar with the polymer clay world, were checking closely and watching me work. Language was never a barrier.
My appearance included demonstrations of various techniques and products - basic and advanced millefiori caning featuring the new colors and pen collection by fimo, display of the endless flexibility of the material, methods of work, infinite possibilities for designs and unusual products constructed with our material.
Staedtler announced it's special luxury type of pens - fountain pen and ball point pen. These pens can be decorated with any ooak design and given as a wonderful personalized gift. These products were very popular and drew a great deal of attention. I made so many I can make them in my sleep now! :)
A special artist collection of pens was displayed and included pens by Carol Blackburn, Sabine Backer, Sandra Bohlmann, Bettina Welker, Sarah Shriver and my own pens.
The booth was so pampering and well accessorized! I got every thing a polymer clayer can dream of - hundreds of fimo packages to play with! ahhhh! :)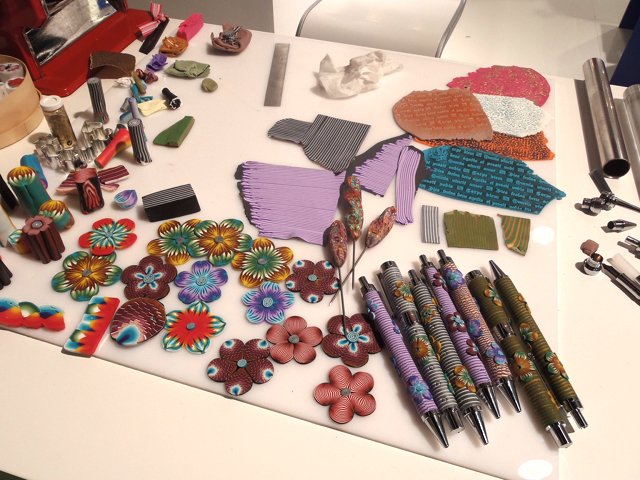 I had very little time to walk around but when I did find some time I saw lot's of interesting booths - paper art, paints, tools, adult and youngsters diy projects, cookie cutters suppliers, beads, art and hobby materials, decorations, art books and all this was just "Creative World". 2 addition fairs were held at the same time devoted to paper ("Paper World") and "Christmas World" showing festive decorations and innovations for the coming seasons - huge, huge shows.
Unfortunately photographing was not allowed so I can only show you my own photos.
Besides the fact that it's my first visit in Frankfurt (but not in Germany) I had a wonderful, creative adventure, unique experience.
I truly felt like a proud ambassador, bringing the charm of fimo and polymer clay to new countries and new people. I'm glad I could take a piece of me, my personal joy and happiness and deliver it to new enthusiasts whether hobbyist artists or clay sellers.
I would like to take this opportunity and thank Staedtler company and team for making me feel so welcome, being the perfect hosts and letting me work with "these square blocks" which makes me and many people so happy.